Katha Pollitt is a Puffin Foundation Fellow at Type Media Center. She has won many awards and prizes for her work, including two National Magazine Awards, one for Essays and Criticism in 1992 and one for Columns and Commentary in 2003. She has been awarded fellowships from the National Endowment for the Arts, the Guggenheim Foundation, and the Whiting Foundation. Her most recent book,
Pro: Reclaiming Abortion Rights
, makes a powerful argument for abortion as a moral right and social good.
Pollitt is a frequent public speaker, with recent appearances at Harvard, Wellesley, Emory University, the University of Louisville, Barnard, The University of Michigan, and many other colleges and universities.
She has been a guest on numerous radio and TV programs, and her poems have appeared in the New Yorker, the Atlantic, Poetry, and other magazines, as well as in the Oxford Book of American Poetry and other anthologies, most recently
Together in A Sudden Strangeness: America's Poets Respond to the Pandemic
. Her book,
The Mind-Body Problem: Poems
, is brilliant, poignant and often funny, full of surprises and originality.
Her previous work, a collection of essays,
Learning to Drive and Other Life Stories
, was reviewed in The New York Review of Books: "The essays… describe the challenges that are the lot of an intelligent, fair-minded, politically alert woman with an inconvenient sense of the absurd. They are full of insight and charm." It was made into a movie,
Learning to Drive
, directed by Isabel Coixet and starring Patricia Clarkson and Ben Kingsley.
Sure, Alexandria Ocasio-Cortez slips up sometimes–but have you listened to her Republican colleagues?
By Katha Pollitt in The Nation.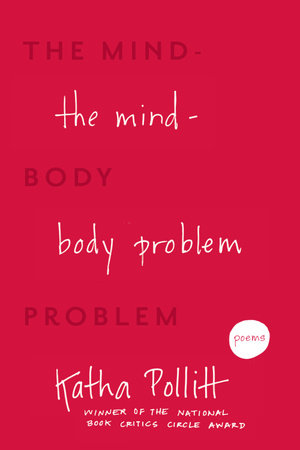 The Mind-Body Problem
In The Mind-Body Problem, Katha Pollitt takes the ordinary events of life–her own and others'–and turns them into brilliant, poignant, and often funny poems that are full of surprises and originality. Pollitt's imagination is stirred by conflict and juxtaposition, by the contrast (but also the connection) between logic and feeling, between the real and the transcendent, between our outer and inner selves: Jane Austen slides her manuscript under her blotter, bewildered young mothers chat politely on the playground, the simple lines of a Chinese bowl in a thrift store remind the poet of the only apparent simplicities of her childhood.
With these moving, vivid, and utterly distinctive poems, Katha Pollitt reminds us that poetry can be both profound and accessible, and reconfirms her standing in the first rank of modern American poets.
Learning to Drive and Other Life Stories
Celebrated for her award-winning political columns, criticism, and poetry, Katha Pollitt now shows us another side of her talent. Learning to Drive is a surprising, revealing, and entertaining collection of essays drawn from the author's own life.
With deep feeling and sharp insight, Pollitt writes about the death of her father; the sad but noble final days of a leftist study group of which she was a member; and the betrayal and heartbreak inflicted by a man who seriously deceived her. (Her infinitely patient, gentle driving instructor points out her weakness—"Observation, Katha, observation!") She also offers a candid view of her preoccupation with her ex-lover's haunting presence on the Internet, and her search there for a secret link that might provide a revelation about him that will Explain Everything.
Pro: Reclaiming Abortion Rights
In this controversial and necessary book, Katha Pollitt reframes abortion as a common part of a woman's reproductive life, one that should be accepted as a moral right with positive social implications. In clear, concise arguments, Pollitt takes on the personhood argument, reaffirms the priority of a woman's life and health, and discusses why terminating a pregnancy can be a force for good for women, families, and society. By whole-heartedly defending abortion rights, Pollitt argues, we reclaim the lives and the rights of women and mothers.
YOU MAKE OUR WORK POSSIBLE
We depend upon the generous support of individuals and institutions committed to a free and independent press, civil liberties, and social justice.
Type Media Center is a 501(c) (3) public foundation, donations to which are tax deductible to the fullest extent provided by law. If you have any questions, or would like other donation options, visit our donate page or contact us at (212) 822-0252.