Pamela Newkirk, PhD, is a Type Media Center fellow and a professor of journalism at New York University. Newkirk is a multi-faceted scholar and journalist whose articles examining race and African American portrayals have been published in leading publications including the New York Times, the Washington Post, The Nation and the Guardian.
She is the author of Spectacle: The Astonishing Life of Ota Benga (Harper Collins), which was listed among the Best Books of 2015 by NPR, the San Francisco Chronicle, the Boston Globe, and The Root and was a New York Times Editors' Choice. It was also awarded an NAACP Image Award for Outstanding Literature and the Hurston/Wright Foundation Legacy Award.
Newkirk is editor of Letters from Black America (Farrar, Straus & Giroux 2009); and A Love No Less: More Than Two Centuries of African American Love Letters (Doubleday 2004), and is the author of Within the Veil: Black Journalists, White Media, (NYU Press 2000) which received a National Press Club Award for Media Criticism.
She is in the process of writing Diversity, Inc. which examines efforts over the past 50 years to diversity American institutions. The book will be published by Nation Books in 2020.
Book review of Eli Saslow's "Rising Out of Hatred." By Pamela Newkirk in the Washington Post.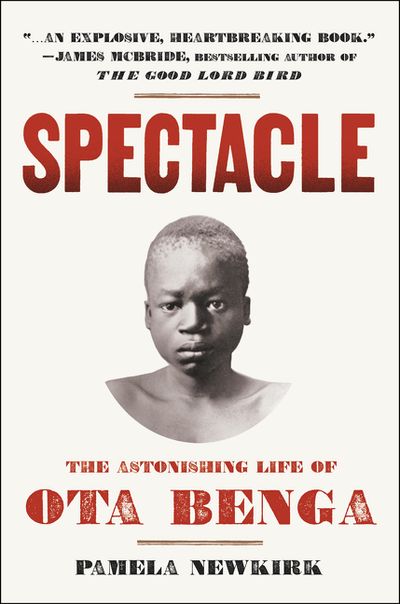 Spectacle: The Astonishing Life of Ota Benga
An award-winning journalist reveals a little-known and shameful episode in American history, when an African man was used as a human zoo exhibit—a shocking story of racial prejudice, science, and tragedy in the early years of the twentieth century
In 1904, Ota Benga, a young Congolese "pygmy"—a person of petite stature—arrived from central Africa and was featured in an anthropology exhibit at the St. Louis World's Fair. Two years later, the New York Zoological Gardens displayed him in its Monkey House, caging the slight 103-pound, 4-foot 11-inch tall man with an orangutan. The attraction became an international sensation, drawing thousands of New Yorkers and commanding headlines from across the nation and Europe.
Spectacle explores the circumstances of Ota Benga's captivity, the international controversy it inspired, and his efforts to adjust to American life. It also reveals why, decades later, the man most responsible for his exploitation would be hailed as his friend and savior, while those who truly fought for Ota have been banished to the shadows of history.
Within the Veil: Black Journalists, White Media
Thirty years ago, the Kerner Commission Report made national headlines by exposing the consistently biased coverage afforded African Americans in the mainstream media. While the report acted as a much ballyhooed wake-up call, the problems it identified have stubbornly persisted, despite the infusion of black and other racial minority journalists into the newsroom.
In Within the Veil, Pamela Newkirk unmasks the ways in which race continues to influence reportage, both overtly and covertly. Newkirk charts a series of race-related conflicts at news organizations across the country, illustrating how African American journalists have influenced and been denied influence to the content, presentation, and very nature of news.
Donations
Our work is made possible through the generous support of individuals and institutions committed to a free and independent press, civil liberties, and social justice. We are a 501(c)(3) public foundation, and donations are tax deductible to the fullest extent provided by law. If you have any questions, or would like other donation options, contact Kristine at (212) 822-0263.